My ambitions got the best of me this week. With my preference for individual bite-sized desserts driving me, I spent more time than I care to admit pressing cookie crust into little mini muffin tins. What I didn't anticipate about this week's Tuesdays with Dorie selection that Elizabeth of Ugg Smell Foodmade, is it was a very light mousse-like filling that just didn't have the structural integrity to be finger food. Thankfully I had some extra cookie crust and made six-inch torte shell while I was at it, which made for a very successful end result.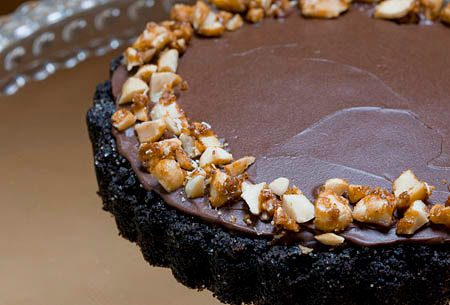 The mini muffin shells would have worked fine if I had not piped the filling to resemble a soft-serve cone. I was able to dip the little guys in the ganache and garnish them just fine, but when it came to eating them it was all over – as in all over your face and hands. The filling is like a cloud and just goes everywhere on the first bite. If they were small enough to pop in the mouth as a one-bite delight, problem solved. The other solution I discovered is they make a great frozen treat!
The unexpected surprise of my back-up torte shell is that the low profile increased the all important filling-to-crust ratio and though the filling is very good, I love crust! Other twists and spins in my version include: a chocolate wafer crust with a touch of ancho chile rather than Oreos, and candied spiced peanuts. The candied nuts worked really well adding another layer of subtle flavor (see previous post for my recipe).
If you like light, fluffy, mousse style fillings this recipe is for you. It is sweet and very rich and does not scream peanut butter, but comes across as a more subtle and refined peanut flavor.  As always you can find the recipe in Dorie Greenspan's book Baking: From My Home to Yours.
 Chocolate Wafer Crumb Crust
1 1/2 cups chocolate wafer cookie crumbs
3 ounces unsalted butter (6 Tablespoons), melted
1/4 cup sugar
1 teaspoon ancho chile powder
pinch of salt
To make the cookie crumbs, place the cookies in a plastic zip bag and crush with a rolling pin to a fine even crumb.
Mix all the ingredients together in a medium bowl until well combined. Press mixture firmly and evenly into an un-buttered 9-inch pie pan or torte pan. Refrigerate at least 10 minutes and then bake for 10 minutes in a 350 degree F oven.