I love visiting New York City, so I thought I had a pretty good baseline for the crowds and pace of city life as David and I headed off for a business trip and a few days of exploring in Hong Kong. Hong Kong re-set my reference point for city life and I now know what a crowded sidewalk is. Add pouring rain and all the people on the sidewalk each with an umbrella; that's an experience!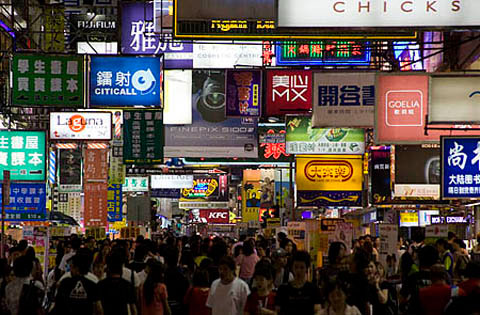 Hong Kong is a spectacular city. For as modern and fast-paced as the city is, woven between the sky scrapers and chic shopping malls is a traditional Chinese culture and way of life. It appears that the Hong Kong people move between what seems to me to be two worlds without even blinking an eye. From a six-level mall with every top cosmetic and fashion brand available you can walk just a block and be in an open market with tiny jam-packed stalls selling everything from fruits and vegetables, live fish, and dried herbs to butchered meat hanging on display in the heat of the day. It was an amazing experience.
The food in Hong Kong is fantastic. I especially enjoyed the myriad of street stalls and the noodle shops at the infamous night market. Starting off with one of my favorite bites, the fish balls, or octopus balls in the case of the sampling I had. It is a rather sweet batter that has a variety of vegetables and octopus pieces mixed in. They are golden crispy on the exterior, but soft and moist inside. Brown and white sauces were drizzled over the top and a sprinkling of seaweed strips completed the dish. It was so delicious and the most amazing part was the cost of about $2.00 US.
During my pre-trip planning I read about a Hong Kong style waffle, Gei Dan Jai, that sounded so interesting it was on my list of items to track down. It was not a difficult item to find as they are sold at many of the street-front food stands. They are quite thin and very crisp on the outside with a little layer of doughy-creamy texture on the inside, but the bubbles are hollow. The stand I visited (more than once) offered  chocolate or vanilla. They are not overly sweet and were a bit reminiscent of a waffle cone. The batter is very thin and poured from the pitcher into a two piece mold that is then closed and flipped around to distribute the batter. To my thrill and excitement I found the kitchen supply store section of Hong Kong (Shanghai street) and was able to purchase my very own waffle iron. The only hitch is I have no recipe for the batter, but I have managed to find a few online. My first test recipe wasn't quite right, but experimenting until I come up with a waffle that resembles what I ate is a challenge I fully accept.
Coffee milk tea sounds very odd, but is so delicious. From what I know this drink is also rather unique to Hong Kong. It is served both hot and cold and now that I have been home it has become my new morning beverage.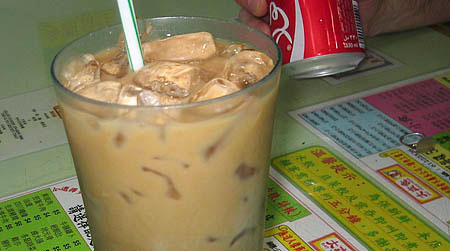 I almost missed experiencing the pizza. We were walking along a little street not far from our hotel and I barely glanced at the food in being sold from a tiny hole-in-the-wall spot, but a newspaper clipping hanging on the wall next to the food display caught my attention with the word "pizza." I stopped, backtracked, and glanced over the article describing, well, raving about, this Northern-Chinese Pizza. I believe the dough is what associates this pizza with the Northern region of China. I made my purchase after establishing that the topping was pork and we continued our walk. As I savored this absolutely delicious pizza I was feeling very pleased with myself for making this spontaneous purchase. The crust was very tender with a slight sweetness and the kind of crispy crunch that makes pizza so satisfying. The flavors were a world away from Italian pizza, but the gastronomic satisfaction was every bit as high as a perfect Italian pizza.
A few other places we ate fantastic food:
Mak's Noodle Ltd. 77 wellington Street, Central, H.K. This is a very famous noodle house and according to a news article placed under the glass of our table Anthony Bourdain recently visited filming an episode of No Reservations.
Yung Kee Restaurant 32-40 Wellington Street, Central, H.K. This is a restaurant very famous for their roast duck. It was delicious! We were told we could probably get a table if we arrived by 6:00-6:15 p.m. and sure enough we got right in. By the time we left, the place was packed with a huge number of people waiting for tables, so go early!
The Metropolitan Park Hotel, Kowloon is a very nice, extremely reasonable hotel in a great location. It is in Mongkok, near subway and train stations, Night Market, Ladies Market, very large wet market, and away from the general tourist crowds. Splurge for the executive room if you can and the buffet breakfast is very good (both Chinese and American food).
Enough for now. Soon I will post about the day I spent at Martha Sherpa's Cooking School!