More cookies this week for the Tuesday with Dorie bakers. Ulrike of Kuchenlatein selected Grandma's All-occasion Sugar Cookies as our task for the week. Sugar cookies are so festive and pretty, but often don't actually taste very good. The two pitfalls most likely to doom adorable cut-out cookies to being just pretty decorations rather than something you actually want to eat, is too much flour in the dough and over-handling the dough. Dorie Greenspan's recipe in Baking: From My Home to Yours
, sets the baker up for success with a butter-rich formula that also uses an extra egg yolk for added tenderness.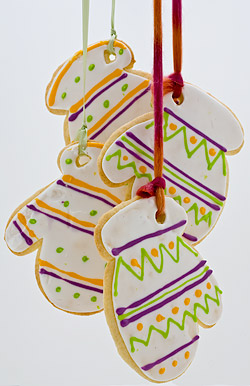 When it comes to rolling out dough, I say you get two shots and then it's game over. Careful planning to minimize wasted dough between cut-outs is critical. Or, you can simply roll the dough into a log and slice off cookies, wasting nothing; efficient, but not quite as decorative. The problem with  butter-rich dough is it is very soft and sticky, so patients is required while giving the dough frequent chill breaks in the fridge. After last week, rolling dough out between waxed paper sheets is my new way to deal with rolled cookie dough. Not only does the dough not stick to the counter or rolling pin, but I don't get flour all over the kitchen or work any additional flour into the dough which reduces the risk of ending up with tough cookies. The key to rolling out dough between paper is to flip it over every few rolls to smooth out any wrinkles that form.
Icing Cut-out Cookies

Working with a standard royal icing made of meringue powder (available at baking, cookware, or craft stores), powdered sugar and water, mix up the icing so it is thick enough to hold its shape if piped in a thin line. Pipe a thin outline all around the cookie with this slightly stiff icing (colored to match the background color of the design) to act as a boarder. Thin the remaining icing to the point that when drizzled on the surface, the ribbon of icing disappears after about 5 seconds. Color multiple portions as desired. Thin the portion of icing that is the background color to the point that a ribbon drizzled on the surface of the icing disappears almost immediately. Spoon enough of this thinner icing to flood the space inside the piped boarder. Spread the fill-icing out to the piped boarder with the help of a small knife and by simply tilting the cookie and letting gravity do the work. While the fill-icing is still wet, pipe on the color decorations. This slightly thicker icing will melt into the background icing creating a perfectly smooth surface, but still retain its shape and design. It ends up looking like a painted design.

Below is a great video on how to make a paper cornet. I think paper cornets are the easiest way to handle a multitude of different colors of icing. You don't need to buy pre-cut parchment triangles, just tear off some parchment or waxed paper and fold the bottom right corner of the piece to line up perfectly with the left edge. You should have a double-layer triangle with an extra strip of paper sticking out one side. Trim off the excess paper and you have a perfect right triangle for making a cornet.
httpv://www.youtube.com/watch?v=45X8FnXBhPw
In addition to my "Good Little Kitten" mittens, I made Chocolate-Filled Ravioli Cookies. I have been thinking about this idea ever since coming up with the chocolate paste filling for the rughelach a few weeks back. The filling is rather stiff and bakes well because it holds its shape. I rolled the cookie dough a bit thinner than for standard cut-outs because it is double layered. Simply place small balls of the chocolate paste on one layer of rolled-out sugar cookie dough, cover with another layer of dough and gently press the dough together working out any air pockets around the filling. Cut the ravioli apart and bake at 350 degrees F for about 10 minutes, or until lightly browning around the edges.
photo by David Peterman
Chocolate Filling
3 oz. dark chocolate, chopped
2 oz. unsweetened chocolate, chopped
2 Tbsp. granulated sugar
1 1/4 cups powdered sugar
1 egg
1/4 tsp. cinnamon
1/8 tsp. ancho chile powder
Place the chopped chocolates in a medium sized bowl and set aside. Mix the sugars, spices, and egg together in a small bowl. Set the bowl over a pot of simmering water and stir constanly until the mixture is 160 degrees F. Pour the sugar mixture over the chocolate and let it stand for a minute. Begin whisking the mixture to melt the chocolate and combine the ingredients. If the chocolate does not completely melt, set the bowl over the pot of warm water and stir to fully melt the chocolate. The chocolate mixture will be very thick, but still spreadable. If it sets up too firmly to scoop once cooled, warm it gently in the microwave until it is pliable.
I couldn't help but recall this nursery rhyme while making the mitten cookies.
"The three little kittens, they lost their mittens"
by Anonymous
The three little kittens, they lost their mittens,
And they began to cry,
"Oh, mother dear, we sadly fear,
That we have lost our mittens."
"What! Lost your mittens, you naughty kittens!
Then you shall have no pie."
"Meow, meow, meow."
"Then you shall have no pie."
The three little kittens, they found their mittens,
And they began to cry,
"Oh, mother dear, see here, see here,
For we have found our mittens."
"Put on your mittens, you silly kittens,
And you shall have some pie."
"Purr, purr, purr,
Oh, let us have some pie."
The three little kittens put on their mittens,
And soon ate up the pie,
"Oh, mother dear, we greatly fear,
That we have soiled our mittens."
"What, soiled your mittens, you naughty kittens!"
Then they began to sigh,
"Meow, meow, meow,"
Then they began to sigh.
The three little kittens, they washed their mittens,
And hung them out to dry,
"Oh, mother dear, do you not hear,
That we have washed our mittens?"
"What, washed your mittens, then you're good kittens,
But I smell a rat close by."
"Meow, meow, meow,
We smell a rat close by."
Source: Poetry Foundation