The simplicity of this cake makes it elegant and very French. This week's sweet baking adventure with the Tuesdays with Dorie gang is a cake Dorie Greenspan says just about every home cook in France makes.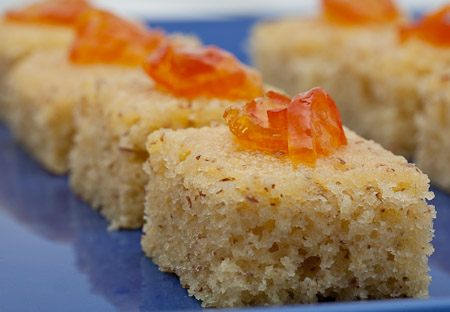 It was simple to make, delicious, and versatile. Dorie's version suggests baking it in a loaf pan making it more like a pound cake, but I wanted to serve this at a party and thought little bite-sized squares would be easier to eat and more festive. To get a thinner cake making the pieces easy to pop in the mouth, I chose to bake it in a 9×13 pan and reduced the baking time to 30 minutes. If I bake this again in a non-loaf pan I will cut back on the levener just a bit. The crumb was a bit more open than it needed to be and I bet if I had baked it in a deep loaf pan this wouldn't have been the case.
The speckled appearance of my cake is from the almond flour I purchased that was made from almonds with their skins rather than blanched almonds. The cake is glazed with melted marmalade after it's baked and I was thrilled to put my freshly made mandarinquat marmalade to use. The cake is moist and tender with a rich buttery flavor that is completely satisfying without any additional garnish, but would also take nicely to being frosted like a traditional layer cake.
Thank you to Liliana of My Cookbook Addiction for picking the recipe this week. Liliana has posted the recipe on her blog and  Dorie recently posted a beautiful photo of this cake on her blog.  Dorie baked it in a loaf pan and used skinned almonds so her cake has a smooth creamy pale yellow appearance.
 I, along with over 350 other baking bloggers are baking our way thorough Dorie Greenspan's book, Baking: From My Home to Yours
. 65 recipes completed, 156 to go!