TGRWT stands for They Go Really Well Together; it's a monthly food blogging event that Martin of Khymos started as a way to explore unconventional flavor pairings. The flavor pairing concept is based on the idea that if foods share common volatile aroma compounds, they should taste good together even if they don't seem like foods that would normally be paired. Each month a flavor pairing challenge is selected and anyone motivated to do so can create and share a recipe that illustrates the pairing.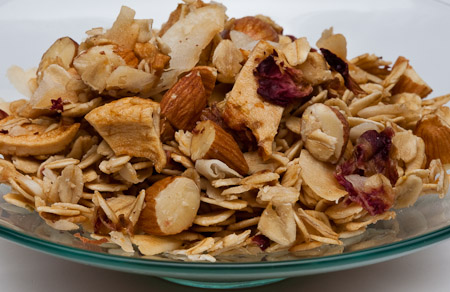 Some examples of past flavor pairings are: banana and parsley, strawberries and coriander, white chocolate and caviar, pineapple and blue cheese. This month is apple and rose selected by Matmolekyler, where I believe a round-up of all the entries will be posted. Though I have read with great interest past TGRWT posts, this is the first time I have participated. I have been fixated on making granola lately and decided to play around with an apple rose granola. My biggest goal was to create something that didn't make you think you were eating potpourri. I think it worked really well because I can't stop snacking on it, but the big qualifier is I am the only one who has tasted it, so the data is a bit biased.
The rose flavor is definite, but light. I wish the apple flavor was a bit stronger and I think adding some apple juice concentrate to the syrup might just do the trick, but I haven't had time to test it. Any spice store should sell dried rose buds, I purchased mine from World Spice. Separating the petals from the buds is a bit tedious, but went much quicker once I spread the buds out on a large plate to work through them. I like to purchase rose water from a Middle Eastern grocery store because they sell large bottles inexpensively.  
Apple Rose Granola
2 cups rolled oats
¼ cup honey
¼ cup rose water
4 Tbsp. dried rose petals, divided (1 Tbsp./3 Tbsp.)
2 Tbsp. unsalted butter
½ tsp. sea salt
¾ cup dried apple, chopped
½ cup large flake coconut, unsweetened
½ cup raw almonds, roughly chopped
¼ tsp. cardamom, freshly ground


Preheat oven to 300 degrees F.
Spread oats on a large rimmed sheet pant (12"x17") and toast in the oven for 20 minutes, stirring occasionally.  Remove from oven and set aside. Leave the oven on at 300 degrees F.
In a small sauce pan, combine honey, rose water, 1 Tbsp. of rose petals, and butter. Bring to a boil, then reduce heat and simmer for 5 minutes.
In a large bowl combine, toasted oats, dried apples, coconut, almonds and remaining rose petals. Pour the syrup over the oat mixture and stir to combine. Spread granola on a large sheet pan and bake in the oven for 20 minutes, stirring every 5 minutes. Remove from the oven when the coconut beings to take on a toasty color. While the granola is still hot, stir in the cardamom, and loosen the granola from the sheet pan so it doesn't stick as it cools. Store in an airtight container once completely cooled. Enjoy with milk, as a topping for yogurt or ice cream, or as a snack out of hand.
*The next batch I make I will try adding 1 Tbsp of frozen apple juice concentrate to the syrup mixture to boost the apple flavor.