This week I learned that I have something in common with Katharine Hepburn; we both like fudgy brownies. If your brownie preference is like hers and mine, read on. I didn't realize Miss Hepburn was famous for her brownies, but I learned this in Dorie Greenspan's head notes to this week's Tuesdays with Dorie recipe. She relates a story published in the New York Times, about a young woman given some advice by Miss Hepburn: 1. Never quit; 2. Be yourself 3. Don't put too much flour in your brownies.  Truly words to live by.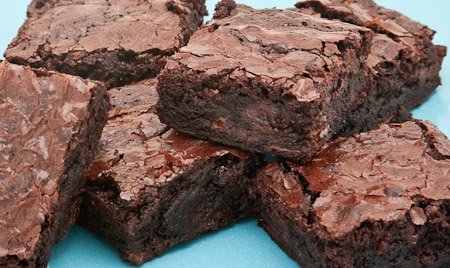 I have my own brownie recipe that I am very attached to and this is the first recipe that I have come across that I really like, and no surprise it is darn similar to my recipe resulting in brownies that are dense, rich, moist and fudgy. Dorie includes nuts in her recipe, but that is considered a brownie faux pas in our house, so I left them out. These brownies are sweeter than mine and have nuggets of chocolate throughout, neither point a drawback in my book. They are definitely better once cooled, and if you can possibly manage to make them last, they are best the next day.  
This week Lisa, of Surviving Oz picked the recipe for the group, but she isn't actually in the group. She landed herself this honor by winning a design challenge to create a new logo for the Tuesdays with Dorie group. She was thrilled to win, but slightly horrified at the prospect of being the recipe host for the week. You see, she doesn't bake. Visit her blog for the recipe and her story of baking her first batch of brownies from scratch.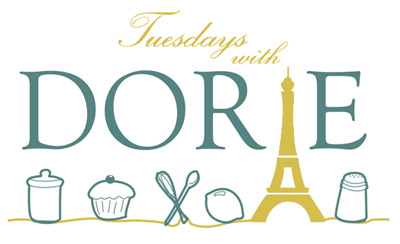 I followed the recipe as written, but only used 1 teaspoon of espresso powder rather than two, because that was all that was left in the jar. It may have been a happy accident because a few of the bakers in the group commented on how dominate the coffee flavor was. David, not a fan of coffee, wouldn't have enjoyed that, but I do like to add a little espresso powder to chocolate baked goods because it seems to enhance the chocolate flavor.
My preference when baking brownies, or anything, is to line the pan with parchment paper. For any item baked in a pan with side walls, I cut the parchment long enough to extend beyond two sides of the pan. This way the parchment acts like a sling and the baked delight can be easily lifted out once it is baked. Recipes often instruct that the pan and parchment be buttered and floured. I may be tempting fate, but I rarely do this and have never had a problem removing the parchment paper from baked goods. Do you butter your parchment paper?
Over 350 baking bloggers are baking our way thorough Dorie Greenspan's book, Baking: From My Home to Yours. 81recipes completed 140 to go!