Tuesdays with Dorie is named such because everyone participating in the weekly baking group posts their results on Tuesday; kind of obvious. Today I feel like I am back in school showing up to class with an incomplete homework assignment. I saw this coming because wasn't able to squeeze a baking project in before leaving town last week. I got home last night at midnight and all week I had been debating as to whether or not I should just skip this week, but that just didn't feel right so I woke up this morning and started the dough. Of course the week I am pressed for time the recipe involves  yeasted dough rather than a quick batch of cookies.
The dough is mixed and undergoing its first rising and I wonder if I will manage to get the tart made and posted by the end of the day, then it occurred to me to invite you to follow along with the process through real-time blog updates as I progress through the recipe. Brilliant! I just went from a tardy homework assignment to an interactive experience for my readers. Sometimes it just comes down to how you choose to look at a situation.
I hope you will enjoy seeing my Brioche Plumb Tart come to life throughout the rest of the day. To get you caught up: The dough was mixed and rose in a warm spot of about an hour. It was then deflated and put in the refrigerator to rise for 30 minutes. At this point I came up with the post-as-I-go idea so a photo was taken. I have three more 30 minute refrigerator rise and deflate cycles to go through and will move on with then next step in about 1 1/2 hours. In the mean time I will head to the store to see what sort of fruit is ripe. I can't guarantee this will end up being a plum tart. Isn't it exciting? Together we have no idea where this is going to go!
2:00 p.m. update: In the pan
Brioche is not a dough that puts up a fight, so it's fun to work with. It has a soft supple texture thanks to the addition of eggs and butter, which also gives the dough a beautiful golden color. With gentle patting and stretching the dough easily filled the tart pan, in fact, it seems like a lot of dough for this size pan. Hopefully it won't rise beyond the boundaries and become an uncontrollable bready monster once in the oven.  Now for a 30 minute chill, and then on to the filling. I found some beautiful ripe fruit at the store. Not plums, so check back in a bit to see where this tart is headed (Queue dramatic and suspenseful music in your head).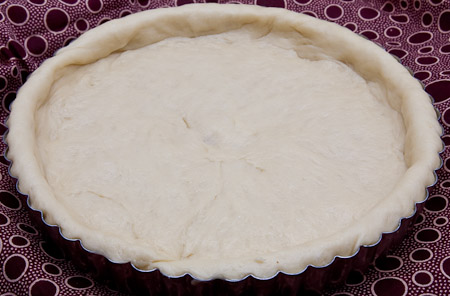 3:10 p.m. update: Tart filled
The fruit reveal…apricots! It is one of the alternates that Dorie suggests if plums aren't available along with apples, pears, or mangos as great winter fruit options. The filling is fruit, jam, and a few tablespoons of chopped nuts and sugar. I included a little ginger zing by adding 1/4 teaspoon of finely grated fresh ginger to the apricot jam, and a warm spicy note by adding 1/2 teaspoon of freshly ground cardamom to the sugar and nut topping. The tart is resting in a warm spot for 30 minutes and then it will go in the oven. In just about an hour it will be time to unveil the final result. Stay tuned…
5:40 p.m. update: Ta-da
Out of the oven and filling the house with the beautiful aroma of freshly baked bread; it now needs to cool for 45 minutes. I am suspicious that the slightly sunken center is actually a raw center, but I need to get to FedEx to ship a package before they close, so I have to leave it be. The upside of needing to run an errand is I don't have to try to resist digging in while it cools for 45 minutes. The ideal timing of this dish is to make the dough the day before and let it hold in the refrigerator overnight so the bread develops more flavor. In the morning it can be filled and baked for a really spectacular breakfast or brunch dish.
Well, the sunken center did turn out to be a result of under baking. I am a little bit sad about that, but given that I worked this project in with everything else going on today, I'm happy to have gotten it baked. It's really hard to beat the rich buttery flavor of brioche, especially when topped with ripe seasonal fruit. Interestingly, apricots seem to be one of the few fruits that is actually improved with cooking. The flavor of the fruit really comes to life after being exposed to some heat. I have read comments to this effect from pastry chefs and having just eaten some of the leftover fresh apricots, I can attest that the baked apricots are much more flavorful. The ginger and cardamom additions are nice, but a little too subtle. Next time I will use 1/2 teaspoon of grated ginger in the jam and then add the 1/2 teaspoon of cardamom to the brioche dough rather than putting it on the apricots.
If you would like to see an example of a beautiful Brioche Plum Tart, visit Denise at Chez Us. She selected our baking activity this week and the recipe is posted on her blog. I look forward to making this again when I am able to give the process my full attention.
Over 350 baking bloggers are baking our way thorough Dorie Greenspan's book, Baking: From My Home to Yours. 82 recipes completed 139 to go!