Mrs. Cook's is a Seattle gem. Comfortably nestled in the heart of University Village Shopping Center, Mrs. Cook's has been fueling the inner chefs of Seattleites and visitors since 1976 when Carol Bromel first opened her shop.
As someone who loves to cook, just walking in a kitchen store makes my heart race. Filled with beautiful things that inspire my favorite hobby, how could it not be exciting? Mrs. Cook's has all the elements that make a great kitchen shop with quality lines of pots and pans, cutlery, dishes, crystal, linens and gadgets. Shelves filled with products from industry leaders assures you will find what you need, but among all of these familiar brands and products are countless beautiful, unique, clever, and delightful finds that define the independent identity of Mrs. Cook's, making it such a fun place to shop.
About a year and a half ago I had the opportunity to work at Mrs. Cook's through the holiday season as an internship of sorts. Starting TableFare I felt it was really important to understand the retail kitchenware business, and how better to do that than work on the floor during the holiday season? It was an immensely valuable experience, and even during the height of holiday craziness, it was a lot of fun.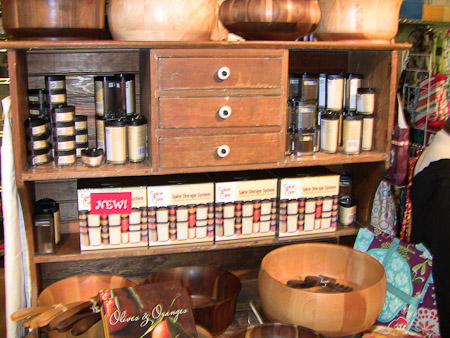 Look, that's SpiceCare on the shelf!
Carol and her two long-time managers, Amy and Nancy, work as a dynamic team to ensure the store is always stocked with inspiring items to keep customers cooking, entertaining, and generally enjoying time spent in the kitchen. Though even with all the right merchandise a store is only as good as the overall shopping experience. It's unusual in a retail setting, but the Mrs. Cook's staff have been working together for years and have developed a deep knowledge of the products they sell, take time to get to know their customers, and make it a goal to provide great service which sometimes means advising a customer against buying an item that really isn't what that person needs. It's fun to shop in a store where the staff enjoys what they do, and they do it well; it makes for a great shopping experience.
Mrs. Cook's is the first kitchen store to stock SpiceCare, so in my opinion this makes them the best kitchen store ever! True to their dedication to good service and product knowledge, I was given the opportunity to train their staff on SpiceCare this week.  They are now SpiceCare experts and ready to help you get your spice collection organized; truthfully I feel good knowing they will only sell you our product if it really is the best solution for you. Stop by and visit their store in University Village or online. You can also find them on Twitter and Facebook too.