Chef Jerry Traunfeld kicks off coriander month here at TableFare by sharing his love for this popular spice in our Spice Inspiration feature. If you aren't already a fan of cooking with coriander this feature is a great introduction to why it is a favorite with so many people. 
To get you hooked on cooking with coriander, Chef Traunfeld shares two great recipes with us. The first one is Coriander Potato Soup it's creamy, but still light and refreshing. The citrus notes of the coriander are highlighted by the addition of orange zest and the coriander seeds are toasted bringing out a warm nutty flavor in the spice that comes through at the finish of each bite. This is a perfect summer soup because it can be served hot or cold.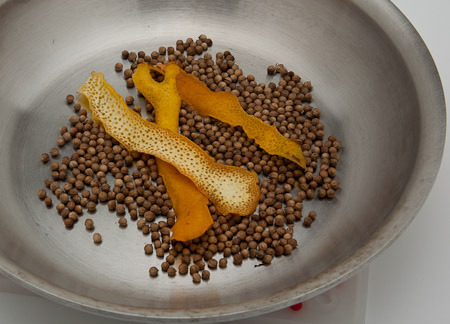 The orange zest is toasted right along with the coriander seeds in a dry skillet over medium heat. Shake the pan frequently to keep the seeds from burning and toast them until they are about two shades darker than when you started.
You can make this soup in one pot, with the exception of a skillet to toast the spices. It's quick enough to make for a weeknight meal, but elegant enough to impress dinner guests.
What'sbetter than a freshly baked goodie first thing in the morning? These Coriander-Orange Scones are a perfect choice because they are easy to make and deliver fantastic flavor and aroma. The orange-coriander combination is a perfect balance with the currants adding a nice touch of fruity sweetness in each bite. The're great as is, but it wouldn't hurt anything to spread on a touch of real butter while they are still warm from the oven.
Check out the full Spice Inspiration feature and to learn more about coriander visit our Spice Library.