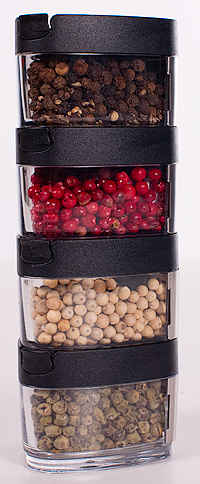 Our Spice Library is growing! Check out the new entries I just added for black, green, white, and pink peppercorns.
Learn about the flavor profiles of different peppercorns, how they are grown, harvested, and processed. Do you know which countries produce the most highly regarded black and white peppercorns? Did you know that pink peppercorns come from a completly different plant than other peppercorns?  What gives pepper its pungent heat? What can turn your spicy pungent black pepper into flavorless dust? Check out the Spice Library and read all about it.
Once you've become a peppercorn expert, try this recipe for Braised Peppercorn Shortribs from Rouxbe, my favorite cooking site on the web. Pick up some fresh aromatic peppercorns and treat your friends and family to this hearty peppery dish this weekend.
And for dessert? How about White Pepper Shortbread? Its tender and melt-in-your-mouth delicious. In one of our past Spice Inspiration features Gale Gand shared this recipe along with her love for using pepper in her famous pastry creations.