This week begins my participation in Apartment Therapy's Kitchen Cure. Over the next four weeks over 2,000 people will be cleaning, sorting and organizing their kitchens together, so I jumped on the bandwagon to get some motivation to take care of a few neglected areas in my kitchen. You can join in too, just visit Kitchen Cure and sign up.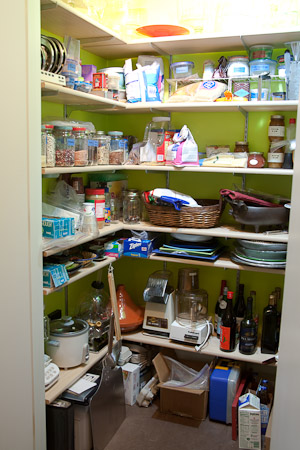 I'm hyper-organized in certain cupboards and drawers as well as in the refrigerator and freezer. Everything stored in a tidy container with an easy to read label. I have zones defined in the refrigerator and freezer so certain shelves and drawers are dedicated to specific types of food. It's all very regimented and effective. In the cupboards without rules, however, things aren't going so well, and that's what I plant to tackle during Kitchen Cure.
This week kicked off  with before pictures. First of all, it's really difficult to take pictures of small spaces, and secondly it's difficult to take pictures of messy cupboards to post online without first tidying up, but I didn't cheat. I didn't bare all either, because as I said a lot of things are working in my kitchen, so I focused on the three areas that need help; pantry, hot beverage cupboard, and condiment cupboard. But before I get to the messy stuff, I will give you a little TableFare history. This is a photo of what launched the company.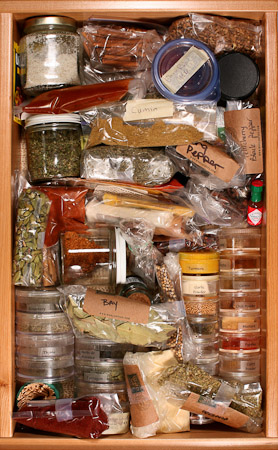 Behold the uber-mess that frustrated me for years. The mess that drove me to quit my job and spend two years working on a solution. I have to say the result has been worth it! It's easy to see why I could never find what I needed in my spice collection, and because I couldn't find containers I liked I just used the plastic bags that I purchased my spices in, which didn't keep the spices fresh or contained. Usually when I would pull a bag out half of the contents would get dumped into the bottom of the drawer.  
Now I have SpiceCare and a new career. The proof that my concept is sound is that the drawer is just as orderly as it was the day I first set it up. What good is organization if it's not a durable solution? I feel happy every time I open this drawer. I can see what I have, grab what I need, and put it right back where it came from.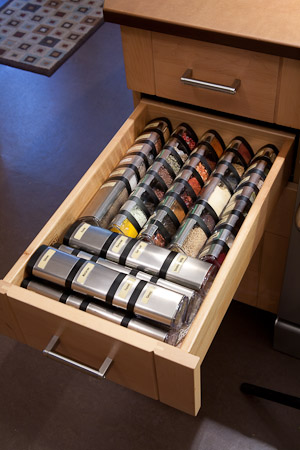 Now onto my challenges; the pantry. It's an easy dumping ground, because there is always room to put whatever I don't know what to do with in the pantry. The biggest issue I have been wrestling with lately is my collection of empty jars that I use for storing dry-goods. I have jars and lids piled up all over the shelves, ready and waiting to store something, and now they have become a storage problem. The other big task in the pantry is just getting things put back where they belong rather than scattered all over. I need some rules and more rigidly defined zones.
The hot beverage cupboard ( upper left) has been in a just-randomly-jam-stuff-in-there mode for some time. Part of what annoys me about this cupboard is that it's three shelves just devoted to hot beverages, which seems ridiculous. My love for hot beverages seems to be preventing me from pairing it down. This calls for tough love.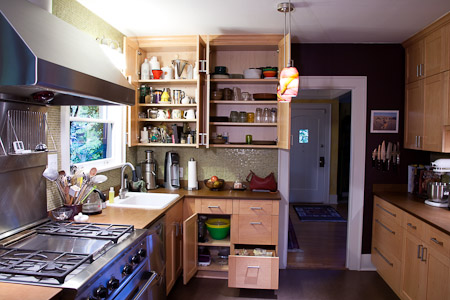 My third area of focus is the condiment cupboard. Vinegars, sauces, oils, honey, bread…Much must be tossed from this cupboard and I need to reevaluate the shelf heights I have selected. I think there is some opportunity for increased efficiency by adjusting some shelves.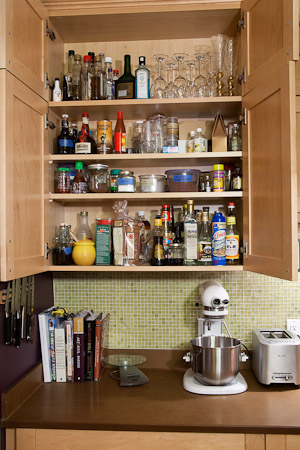 There you have it, the starting ground. Over the next four weeks I will share tips and ideas as I progress to a state of  sustanable organization. If you feel motivated to tackle a messy drawer,  or cupboard, or take on your entire kitchen,  I hope you will share your tips and successes with me.