These spicy pumpkin seeds are my favorite snack to counter all the sugar of the day. They are salty, crispy and you can make them as spicy as you care to by boosting the cayenne pepper.
 My tip for good pumpkin seeds is to cook them long enough so they take on some color, which makes them really crispy with a nice toasty flavor.
Wondering where thoes pumpkin seeds came from? My TableFare themed pumpkin of course.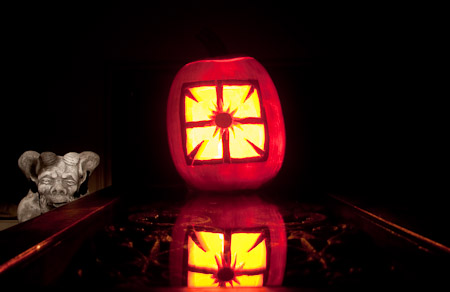 I'm celebrating my inner Julia Child this Halloween. I hope you are having a fun day!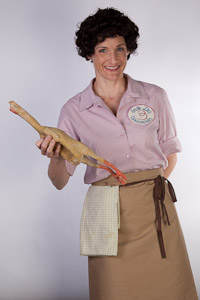 Spicy Toasted Pumpkin Seeds
2 cups cleaned and dried pumpkin seeds
 Tbsp. olive oil, melted butter, or vegetable oil
1 tsp. sea salt
1 tsp. chili powder
½ tsp. cumin, ground
1/4 tsp. cayenne pepper
pinch of garlic powder
pinch of ground black pepper
Preheat oven to 300 degrees F.
After hollowing out a pumpkin, separate the seeds from the stringy membrane and rinse the seeds in a large bowl of water. Swish and rub them around to loosen any bits of pumpkin meat. Lift the seeds out of the water into a strainer and repeat the rinse as many times as is necessary until they are satisfactorily clean, usually 2 to 3 rinses. Drain the seeds and dry them on a clean dishtowel. They can be left to dry overnight, or baked right away.
In a small bowl combine the spices and mix well. Spread the pumpkin seeds out on a rimmed baking sheet, drizzle with oil or butter, and mix well to combine. Sprinkle on the spice mixture and continue to mix until the spices are evenly distributed over the pumpkin seeds.
Bake for 35-50 minutes. If the seeds dried overnight they will bake on the shorter end of the range. Stir the seeds every ten minutes and spread out evenly over the pan to continue baking until they are a deep golden brown. Many of the seeds will puff up and they will make a crackling noise. Let cool and store in an airtight container.