If you want to eat chocolate for breakfast, here's your ticket. This bread drives the deliciously bitter and complex flavors of cocoa front and center leaving the bananas to the finish as a hint that this is legitimate breakfast food.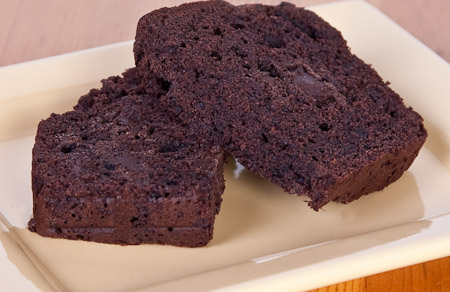 A full cup of cocoa powder gives the bread a dark enticing appearance and bold flavor; it reminded me more of coffee than chocolate. What could be more perfect for breakfast? I would even consider leaving out the pieces of chopped chocolate next time. I added a generous ¼ teaspoon of freshly ground cardamom which created a beautiful lingering warm floral flavor that complimented both the cocoa and banana equally well.
It turned out I could have pulled my bread out of the oven a few minutes earlier because it was just on the boarder of being over baked. I may have been thrown off by the bits of chocolate in the batter making it look like the toothpick I inserted to check for doneness was coming out with wet batter attached, when I actually just stabbed a reservoir of chocolate. It's probably a good idea to try pricking a few different spots before making a final assessment as to the doneness of the bread.
A parchment paper sling is my surefire way to be able to remove baked goods from pans. In the recipe, Dorie suggests placing the loaf pan on a sheet pan, but instead I used two nested loaf pans to create a little air space in the bottom for insulation. It worked great. The batter filled a 9×5 loaf pan perfectly. If you have a smaller 4×8 loaf pan, bake some of the batter in a separate ramekin or muffin tin.
I am so thrilled with this bread and can't wait to make it again. I was really taken with the beautiful bitterness of the cocoa that came through. My favorite cocoa powder is Felchlin Cacaopulver. I buy it through The Chocolate Man who offers a fantastic selection of quality chocolates from around the world.
Steph of Obsessed with Baking made the recipe selection for this week's Tuesdays with Dorie kitchen activity. She has the recipe posted on her wonderful blog. I encourage you to check out the recipe for Cocoa-Nana Bread and click around to see what other culinary adventures she has been on.
3/16/10 Update – I made this again leaving out the chopped chocolate and in stead mixed in 1/4 cup cocoa nibs and 1/2 cup toasted walnut pieces. The nibs and nuts made a great mix-in adding texture and flavor, but not additional sweetness.
Over 350 baking bloggers are baking our way thorough Dorie Greenspan's book, Baking: From My Home to Yours. 110 recipes completed 111 to go!