After reading about the FineCooking.com Slow- Cooker Recipe Challenge in their newsletter, a few ideas started bubbling away in the back of my head. One nice blustery Northwest day I faced the challenge and started cooking.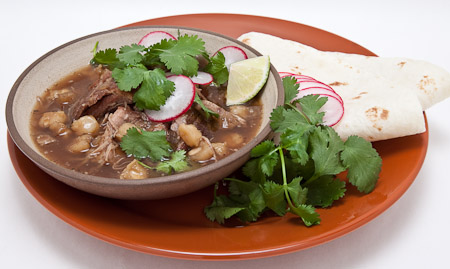 I had eaten pozole for lunch the day before from a little taco truck in the parking lot of a hardware store and realized it was perfect slow-cooker food. Theirs was a tomatillo base which was delicious, but I went in a different direction wanting to build on the magnificent smoky flavor from a Pasilla Oaxaca chile.
What do you know, my Pork and Hominy Stew was selected as the winner! Much to my delight the honor comes with the fabulous prize of an All-Clad Slow Cooker. I don't own a slow cooker, so I'm looking forward to discovering all I can do with it. If you have one, what do you like to cook in yours? Visit FineCooking.com to see the challenge results and a great collection of other slow-cooker recipes. Oh, and I recommend their newsletter; it features lots of great food and will alert you to future recipe challenges!