Carol and I love making pizza at home. We've been at it for over 20 years, and much of that time has been devoted to creating the perfect crust. As I said in a previous pizza post, it is impossible to make a good pizza if you start with a bad crust (yes, it is possible to end up with a bad pizza even if you start with a good crust, but that's another story).
So, after all these years have we come up with the perfect crust? Well… no. The most glowing description I'm willing to give it is that it's near-perfect. What's holding it back is that we're still limited to cooking it in an electric oven that tops out at 550° F; we're not going to able to acheive true perfection until we get around to building a wood-fired oven in the back yard. Until then, however, this recipe and technique make a damn fine pie.
Respect the Dough
I can't stress this enough: The quality of your finished pizza is directly tied to how you handle the crust dough at all stages of preparation. Treat it well and you will be rewarded.
Before we get into the actual recipe and technique, there are a couple important points you need to be aware of:
This process requires a two-day rise, which lets the dough get the slightest tinge of a delicious sourdough taste. Don't start this if you're expecting to have pizza for dinner tonight!
You will need a stand mixer. Really.
Using true 00 pizza flour makes a world of difference. If you can't find it locally, there are places you can buy it online for a reasonable price. I bought our most recent 55-pound bag from Forno Bravo.
You absolutely must use a minimum of one pizza stone in your oven.
This post is only going to discuss the crust and baking technique. Carol is going to follow up with her own post about sauce, or you can seek out another recipe to use in the meantime.
Mixing It Up
I've tried many different recipes over the years, but the one that got me to my current crust was the simple recipe for Napolentana dough found in Peter Reinhart's book American Pie. I have, however, made a couple modifications.
22.5 ounces 00 pizza flour
3-1/4 tsp kosher salt
1 tsp dry yeast (not rapid rise)
2 cups cool water
Place all ingredients in the large bowl of a stand mixer fitted with a dough hook.
Mix on the lowest setting for 4 minutes.
Turn mixer off and let the flour absorb the water for 5 minutes.
Mix on medium for a long time. See Note 1 below.
Add extra water as necessary to keep the dough very wet. See Note 2 below.
Note 1:  What you are going for is the elusive window-pane, where you take a small blob of dough and attempt to stretch a thin unbroken film of it between your fingers.  The length of time it takes to get to this stage is going to vary depending on your flour and water content; I let it run for a full 45 minutes 5 to 10 minutes. (UPDATE: After using a 45 minute mix for many years, I tried backing it off and found that I can get a very good texture in a much shorter time. All I can say is experiment and see what works for you.)
Note 2: You want the dough to be far wetter and stickier than you would ever think. The more water that's in the dough, the more steam you'll have making those magnificent bubbles. So, how wet am I talking about? Here's what it looks like when I'm mixing it:
Notice that the dough is not a dry ball clinging to the hook. I keep adding water until the dough is almost more of a very thick liquid than just a moist solid. I want it to be sticking to the sides of the bowl. You will, of course, have to put a lot of flour on your fingers to be able to do the window pane test. If I find that it is simply looking too wet, I'll add in a bit of flour toward the end of the mixing cycle… but not too much.
Prep Work
Oil the bottom and sides of a 9″x13″ (or similar) pan and have it nearby.
Generously flour your working surface.
Using as much flour as necessary, transfer the dough from the bowl to the working surface. I find it helps to pull back areas of dough in the bowl and sprinkle in flour, working around the full area of the dough to release it from the sides of the bowl.
At this point, working the dough will feel like trying to contain a large jellyfish. You do not need to do any further kneading, though. Just flour it enough so that it's not sticking to everything and you can form it into a uniform blob.
Divide the dough into four equal pieces.
Again, using as little flour as necessary, form each piece into ball. Avoid squeezing the dough; it works best to just roll it in a tight circle on your working surface.
Place the four dough balls in the oiled pan so that they will each have room to expand. Yes, they're going to bump into each other, but don't worry too much about that.
Cover the pan with a tight piece of cling wrap (not touching the dough).
Put the pan in the refrigerator, where it's going to live for the next two days.
Pizza Day
If you've peaked at your dough at some point in the last couple days, you'll probably find that the individual balls have nearly oozed into a single mass. Isn't it gorgeous?!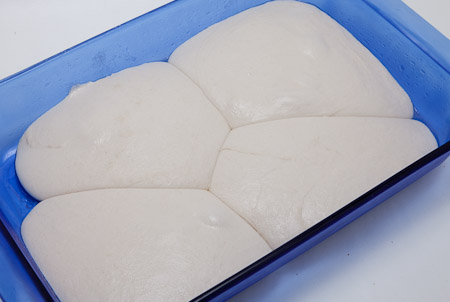 Two hours before you want to eat, you need to prepare the oven and get the dough ready.
Put your pizza stone in the oven and set it for its highest temperature. Stones can take a while to get up to temp, so be sure to allow plenty of time for this. We, of course, do a bit more than just use a single pizza stone. See Note 3 below for more details.
Remove the pan with the dough. Prepare your working surface with a very light dusting of flour.
Have another pan or a cookie sheet nearby.
Remove the first dough blob. Yes, blob. In all likelihood it does not look anything like a ball at this point. You might need to use a sharp knife to separate it from its neighbors.
Using as little flour as possible, gently shape the blob back into a ball shape. Do not overhandle the dough! You've just invested two days in getting a jagillion little yeast burps in it, so don't squeeze them out now!
Generously flour the dough ball. I just drop the whole thing into the flour bin and roll it around.
Place the floured dough balls on the cookie sheet. They are not going to expand much more at this point, but give them enough room so they don't crowd each other.
Drape a piece of cling wrap loosely over the dough and set the whole thing aside. Choose a location where they can come up to room temperature, but not be subjected to any extra heat (for example, keep it away from the stove or direct sunlight).
With the dough warming up and the oven coming up to temperature, now's a great time to start gathering all your cheeses and toppings!
Note 3: As you can see in the picture, I construct a full box to help radiate heat evenly on all sides of the pizza. The bottom and sides are a HearthKit baking stone. It's a slightly expensive product, but the thick material and the unique walls are tremendous for making pizza. On the upper rack I've placed another stone, allowing heat to radiate evenly from the top. Overboard? Nothing is overboard in the quest for great pizza. And remember, turn your oven up as high as it will go!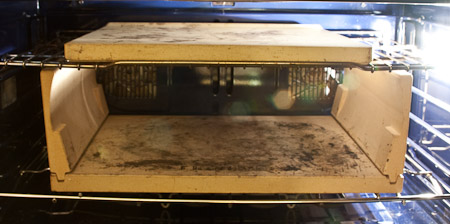 Build It and Bake It
When building the pizza, take care to handle the dough as little as possible. If you've done everything up to this point correctly, the dough should be extremely easy to work with and will go into its flat, round shape with very little prodding. It's like handling a cloud.
Sprinkle a generous amount of flour on your work area.
Take one dough ball and begin to flatten it using only your fingertips. Work in a random pattern, rotating the dough as you go. Keep pummeling it until you have a disc about 8″ in diameter.
If you want to get fancy and toss the dough, have at it. Me, I prefer to gently stretch it into shape. I drape it over the backs of my closed fists and let gravity do most of the work. Watch out for spots getting too thin, but don't be obsessive about it being a perfectly uniform thickness in all areas.
Keep stretching the dough until you have a disc that stays about 14″ diameter when you take your hands away.
Transfer the dough to a well-floured pizza peel or a flat cookie sheet. Some people like to use corn meal instead of flour in this step, but not me.
Construct your pizza and get it into the oven as quickly as you can. You don't want it sitting around too long all sauced up. Our pizzas bake for about 6 minutes, but your time will vary depending on your oven setup.
And at this point you're on your own. The great thing about pizza is that each one can be a custom creation to suit the tastes of each person at the table. Even though I'm not going to tell you specific things to put on your pizza, here are a few tips:
Do not put on too much sauce. Anything more than a thin smear will weigh down the crust, prevent bubbles from forming, and possibly make the whole thing too soggy.
Do not put on too much cheese. Again, too much can be a bad thing. Make sure all areas are covered, but stop before the cheese adds too much weight to the pizza. This is not Dominos.
Speaking of cheese, don't just stick with one. Our standard pizza uses a base of standard mozzarella and is then garnished with parmesan, assagio, and a few hunks of fresh mozzarella.