It's a Tuesdays with Dorie triple treat. The last three recipes all rolled into one delicious post. First up is Tart Noire. It's as sexy and decadent as it sounds.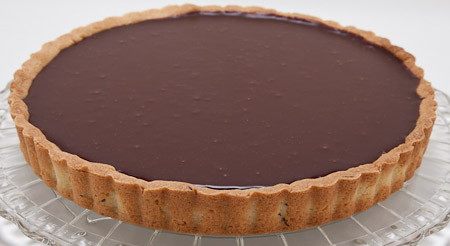 This tart is understated, elegant, and proof that very simple components, when done right, can be sensational. Like any dish, the simpler it is the more imperative quality ingredients become. This dessert is worth splurging on exquisite dark chocolate.
One of the best ways to elevate a lovely chocolate ganache is to pair it with a rich buttery crust. The contrast between the smooth creaminess of the chocolate ganache and perfectly crispy tart shell adds as much to the pleasure of eating this as the flavor does.
Some time ago I had a hot lava-type chocolate cake with caraway at Jerry Traunfeld's restaurant Poppy. His pastry Chef, Dana Cree, is known for creating fantastic and unusual flavor combinations with her desserts and I ordered this one out of pure curiosity. It was so fantastic the flavor combination has been on my mind ever since.  This seemed like a perfect opportunity to play with it, so I added ½ teaspoon of whole caraway seeds to the crust. It turned out to be a little too subtle, but the chocolate caraway combination was as good as I remember.  I liked the effect of the whole seeds releasing their flavor only when bitten into, but I think some ground caraway would make the presence of the spice more noticeable. One of the notable features of Chef Cree's creation was that it wasn't overly sweet, so I used a fairly dark chocolate for my tart.
Ganache and tart shells aren't difficult to make. If you'd like to see it done before attempting it, take advantage of our 14 day trial offer  to Rouxbe. Here are two great recipes on Rouxbe that have a video demonstration of how to make ganache and how to make a tart shell; Chocolate Ganache Cake, Fresh Berry Tart.   A link to Dorie Greenspan's Tart Noire recipe is at the end of this post. Her tart shell recipe uses a food processor which makes it a snap to make, and the Rouxbe demo shows the technique for a hand-mixed crust. Here is a video overview of the Chocolate Ganache Cake recipe to tempt you with delicious. At the end of the video you can click through for the free trail offer to be able to see the entire demo which includes how to make ganache.
Next up is a quick fun brownie, or Brrrr-ownie.
Dorie Greenspan includes 14 different brownie recipes in Baking: From My Home To Yours, and I must admit this wasn't one of my favorites. The distinguishing element is a mix in of York Peppermint Patties. When it comes to drug-store candy, I actually like York Peppermint Patties, but they made the brownies too sweet. The texture of the brownies was also an issue, heavy and a bit greasy, but it improved after sitting for a day. Now don't let my lack of love for this recipe mislead you, we ate every last one of them. Of the brownies we have made so far, my favorite has been the Tribute-to Katherine-Hepburn Brownies. By my count we still have seven more brownie recipes to bake.
The Lots-of-Ways-Banana Cake rounds out this triple-treat post. The most exciting thing for me about this recipe is I emptied 3 containers of frozen things in making it, bananas, coconut milk, and coconut buttercream. I freeze leftover bits of whatever is left over and always get a thrill when I manage to use up the odds and ends, but truth be told I'm most happy about freeing up the freezer container so I can fill it with something else.
Brown sugar and nutmeg really add a nice flavor to this cake. Dorie provides a list of options to take this cake in a variety of directions. I went with two layers frosted with creamcheese coconut buttercream because I had the perfect amount of it on hand in the freezer. Though I really liked the flavor, the texture was a bit heavy for a layer cake. I think it would have been better baked as a loaf cake and frosted. It seems silly that the shape would make a difference, but it comes down to expectations. I expect a layer cake to be light and delicate and expect a loaf cake to be dense and hearty, the kind of cake you could eat out of hand with a nice cup of coffee.
Thank you to my fellow Tuesday with Dorie bakers who selected the recipes: Dharmagirl of Bliss: towards a delicious life picked Tart Noire, Karen of  Welcome to Our Crazy Blessed Life selected the Brrrr-ownies, and Kimberly of Only Creative Opportunities chose Lots of Ways Banana Cake.
Recipe links
Over 350 baking bloggers are baking our way thorough Dorie Greenspan's book, Baking: From My Home to Yours. 135 recipes completed 86 to go!