These soft cakey cookies packed full of goodies are reminiscent of carrot cake, so I took the obvious next step and filled them with cream cheese frosting.
As is so often the case, I made this week's Tuesdays with Dorie recipe with what I had on hand. Dried cranberries stood in for raisins and the sweetened coconut was replaced with unsweetened. The cranberries go beautifully with the carrots and the added tartness is a good thing given the extra sugar hit from the filling and icing.
How is it that I've never thought to grate two carrots at the same time before today?
There is nothing tricky about making these cookies. They don't spread much, so I gave them a little pat to flatten the scoops of dough before baking them. The recipe suggests baking for 16-18 minutes; mine were done in 9. I was using a convection fan, which speeds things up a bit, but even so it's always important to use your best judgment when it comes to baking times. Think of them as more of a hint as to when something should be expected to be done.
Just because I filled and dipped these little treats doesn't mean they aren't great just the way they come out of the oven.
To dress them up I made a Carrot-Cardamom Icing to glaze the top of each cookie with a nice blush of orange and add an additional hint of spice. After dipping a cookie top, let it drain by tapping it a few times on a whisk to remove excess icing. Just a thin coating is all that's needed. Set them aside to dry for a few minutes.
Carrot-Cardamom Icing
2 tablespoons carrot juice*
1 tablespoon buttermilk
1 cup powder sugar, sifted
1/8 teaspoon cardamom (ground from about 3 pods)
Stir the carrot juice, buttermilk and cardamom into the powdered sugar and whisk until smooth.
*if you don't have carrot juice, just use 3 tablespoons of buttermilk.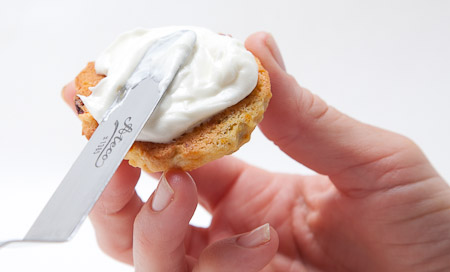 Spread a nice layer of cream cheese frosting on half of the cookies and then top each one with a glazed cookie top.
Cream Cheese Filling
4 ounces cream cheese, room temperature
2 ounces unsalted butter, room temperature
1 cup powdered sugar (4 ounces), sifted
½ teaspoon lemon juice
Beat the cream cheese and butter using an electric mixer until fluffy. Slowly add the sifted powdered sugar and beat until well combined and smooth. Add the lemon juice and beat to combine. Spread on the cookies to fill.
These aren't exactly traditional whoopie pies, but they are really tasty. If you would like to read about classic whoopie pies, of course www.whoopiepies.org is the place. It never ceases to amaze me that there is a website for every topic imaginable.
Thank you to Natalia of Gatti Fili E Farina for the fun recipe choice. She has the recipe as Dorie intended posted on her blog. You can always add my embellishments or create your own.
7/11 update: I baked some left over dough as thumbprint cookies filled with the cream cheese frosting and topped with crumbled nuts. They were even better than the whoopie pie style, and easier to make. Aren't they cute?
Recipe Link
Over 350 baking bloggers are baking our way thorough Dorie Greenspan's book, Baking: From My Home to Yours. 137 recipes completed 84 to go!