Mid August seems like the perfect time to spin up a batch of homemade ice cream. Sunny warm lazy days and ice cream go hand-in-hand.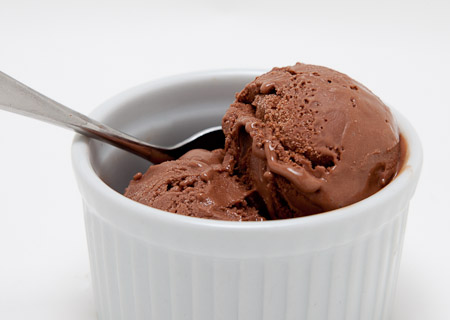 In the Northwest we've been reading about sunny warm days, but haven't actually been experiencing them. Not terribly motivated for ice cream with our chilly summer, I put off making this week's Tuesdays with Dorie recipe until the last minute. Guess what? The sun finally came out for the first time in nearly a week.
This weekend is supposed to be in the mid-80s and the anticipation of true summer weather is very exciting. I believe I'll be mixing up another batch of this ice cream because I don't think what's in the freezer will last to the weekend.
My "ice cream" is actually frozen yogurt. I had yogurt in the fridge, but no cream, so I thought I'd give it a try. I essentially down-shifted the fat by using whole milk in place of the cream and plain low-fat yogurt in place of the milk. It's tangy, chocolaty, and wonderful. I like the lighter ice-milk like quality and the tangy zing of the yogurt is refreshing. The texture isn't creamy smooth, which could be a result of the lower fat or the cocoa powder, or the combination of the two. It's not off-putting by any means, but curious. I'll have to try a vanilla version of the recipe and see what happens. Fearing the tanginess of the yogurt would overpower the chocolate, I added 2 tablespoons of cocoa powder as a little boost and the cocoa-forward flavor takes me right back to one of my favorite childhood frozen treats – a fudgesicle.
Because the yogurt was so tangy I increased the sugar from 1/3 cup to ½ cup. The only other minor tweaks were adding a pinch of salt and ½ teaspoon of vanilla.
Katrina of Baking and Boys has the full recipe posted on her blog and she gets a big thank you from me for picking ice cream for this week. I make ice cream and the sun comes out, how is that for positive reinforcement? And a brilliant example of flawed logic, but I'll still enjoy a scoop while sitting in the sun today.
Recipe link
Over 350 baking bloggers are baking our way thorough Dorie Greenspan's book, Baking: From My Home to Yours. 138 recipes completed 83 to go!