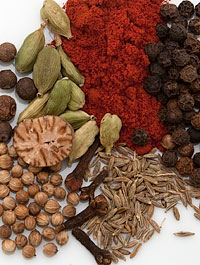 So how old is that jar of paprika in your cupboard? When was the last time you refreshed your coriander? Buying fresh spices before embracing the cooking-intensive holiday season will make your food taste more vibrant.
My #1 tip: Buy fresh spices 
I am a big proponent of buying spices by the ounce. Specialty spice shops and many grocery stores sell spices this way. It's not only ridiculously cheaper, but most importantly you can buy only the amount you will use in the next few months which ensures you are always cooking with fresh flavorful spices.
Here's a little cost comparison on a few spices I did.
 
Grocery
store brand
price per ounce
Nat'l
brand
price per ounce
Grocery
bulk
price per ounce 
Specialty Spice
Shop (bulk)
price per ounce
 Cinnamon
$2.22
$ 3.47
$0.41
$1.00
 Basil
$5.78 
 $12.98
$1.20 
$1.00 
 Cumin
$5.25 
$ 4.57 
 $0.63
$1.25 
 Chili Powder
$2.30 
$ 3.33 
$1.15 
$2.25 
One of the things I love about SpiceCare is it can make shopping easier! Here's how I use SpiceCare to make buying from bulk spice bins easy.
Want to learn more about buying and cooking with spices? Check out our All About Spices and Spice Library.
We are big supporters of Share our Strength and ask you to join us in helping to end childhood hunger by 2015. Sign the No Kid Hungry Pledge today!