When you think "spectacular dessert", what comes to mind? I needed to come up with the perfect ending for a week-long holiday dinner party and after careful thought it hit me. There is one dessert I consider to be as festive, grand, and challenging as this dinner party; croquembouche.  How exactly dose one pull off a week-long dinner party? The Internet. It's a virtual party with over 70 bloggers participating and the best part is you're invited, so please, come Share Our Holiday Table.   
Share Our Strength is hosting this grand event featuring four complete holiday menus by sharing a different course each day. Lucky you, today is dessert! Don't fret if you just arrived to the party, you can start at the beginning and enjoy each and every dish, or jump right in with dessert first and then go back for the rest.   
Croquembouche is not only a beautifully decadent dessert, but its many components make it multi-faceted, complex, and a little intimidating. I didn't set out to create a pastry analogy for the work Share Our Strength does, but they've set a goal to end childhood hunger by 2015, and that's clearly multi-faceted, complex, and intimidating, so it looks like a pastry analogy is exactly where this is heading.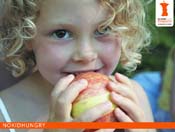 Share Our Strength has worked on hunger issues for 26 years and come to an interesting conclusion. People aren't hungry because of a lack of food, people are hungry because of a lack of access to food. On a typical day like today, over half of the kids that qualify for a healthy free or reduced price school breakfast don't get one. That's a lot of kids sitting in class rooms distracted from learning by their empty stomachs. There are all sorts of reasons these kids are falling through the cracks. Share Our Strength works to identify and close these gaps so existing successful programs can meet the needs of the children and families in their communities. Providing access to healthy food where people live, work, learn, and play is at the core of Share Our Strength's strategy for ending hunger.   
In essence Share Our Strength is the sticky caramel that brings the individual cream puffs together to create something spectacular and glorious; an America where no kid goes hungry.   
Here's a great example. Last year Share Our Strength partnered with an organization in Colorado to fund an outreach program to boost participation in the grossly underutilized Summer Food Program. Share Our Strength provided the resources needed to print fliers for schools to send home with kids and post at social service organizations. The Summer Food Program in Colorado grew by over 50% serving 950,000 summer meals. A lot of kids got healthy nutritious food last summer because this existing program was made accessible through outreach. Nationally only 16% of eligible kids participate in the Summer Food Program. Bridge this gap and kids get fed.    
If each program, like the Summer Meals Program, is a cream puff and it's filled with needed resources, you see where this is going. Building piece by piece, we canend child hunger by 2015. I must say I wish I had executed my crocquembouche assembly as effectively as Share Our Strength is executing their 10-Point Plan. Oh yes, lessons were learned and I'll share all the details.   
But first let me ask you to join David and me and make a donation to Share Our Strength and help create an America where no kid goes hungry.   
This is an organization we are connected with on many levels. TableFare raises funds through our Rouxbe affiliation and I'm an active volunteer for Share Our Strength's Cooking Matters program, a free six week cooking and nutrition class for low income families. When the opportunity came up to participate in this virtual fundraising dinner party I jumped at the chance because I'm happy to sing the praises of the work this organization does.   
Redirecting money for the purchase of one coffee house drink, bottle of wine, or dinner out this holiday season to Share Our Strength will make a difference in ending child hunger by 2015. At minimum, please take the No Kid Hungry Pledge. Add your voice to the chorus of people supporting the effort to end hunger in America and ask a friend to do the same.   
I alluded to some "learning experiences" I had while making my dessert.  It ended up being a success, but there are techniques that still need to be honed and that will take practice, practice, practice. Poor David, he might have to eat more croquembouche!   
The croquembouche structure is built from cream puffs which are made from a simple pâte à choux dough. It's an extremely versatile pastry dough worth learning to make. Once baked the dough puffs can filled with pastry cream or ice cream, and if piped out as logs they magically become éclairs. When piped as one large circle or bicycle wheel, this same dough becomes the famous Paris-Brest Cake created to commemorate the Paris to Brest to Paris bicycle race.   
Pâte à choux dough is simply flour stirred into a boiling water and butter mixture. It quickly thickens and is stirred until it cleans the pan walls. The idea when cooking the dough is to dry it out as much as possible so it will be able to absorb more eggs. Eggs give pâte à choux puff, well eggs and a hot oven.   
Though it's called a dough, it's more like a thick paste that is piped into shapes for baking. A gentle tap on the top of each puff with a wet finger will smooth out the point.   
My pâte à choux baked up beautifully. I made a two fillings for the puffs; a zippy and fresh Ginger Pastry Cream and a Spiced Chocolate Bavarian Cream. So far, so good. Two lessons were learned about fillings. First of all, it's not necessary to completely fill each cream puff. If these were going to be served as individual plated cream puffs, yes, fill 'em up, but for a croquembouche they get too fat and heavy if filled to capacity. A nice little dollop so the puff is about half full is perfect. The second filling lesson learned is a Bavarian Cream is much too delicate for croquembouche.   
Bavarian cream differs from pastry cream in that it's set with gelatin rather than corn starch and lightened by folding in whipped cream. When the puffs are dipped into molten sugar, the heat from the caramel melts the filling so they become very messy. It's an absolutely deliciously light and fabulous filling, but best used for cream puffs or simply scooped into beautiful stemware and served with a spoon.   
Caramel intimidates a lot of cooks for good reason. Molten sugar can cause a more severe burn than just about anything else in the kitchen. It cooks at 310°F to 320° F and it's sticky, so if it gets on your skin it stays there. Notice my set up; it's really important to always have a bowl of ice water at the ready. You will need it if caramel burns you or the caramel itself starts to burn. Quenching the bottom of the pan in the ice bath will quickly stop the cooking and can save a caramel from burning. The other potential problem with caramel is it can crystallize once it cools.   
The caramel is made by simply sprinkling sugar a little bit at a time into a dry heavy-bottomed pan over a low to medium-low heat and stirring frequently. After each sprinkling begins to melt, add a bit more until 2 cups of sugar have been added to the pan. Once all the sugar is fairly melted and it's becoming liquid, brush the sides of the pan down with a wet pastry brush to rinse away any sugar crystals stuck to the sides. Warning: when the wet pastry brush hits the hot pan, a poof of hot steam will rise, so be careful not to burn your hand on the steam. After washing down the side walls of the pan, let the caramel cook without stirring until it reaches a nice golden caramel color. If it's cooking unevenly, gently swirl the pan.   
Remove the caramel from the heat before it reaches the desired color because it will keep cooking from the residual heat of the pan. If it's starting to get too dark, place the pan in the ice bath to stop the cooking, but only for a few seconds, or the caramel will get so cold it will harden and then you have to re-heat it.   
Is ending child hunger starting to seem easier than making caramel? With a clean heat-proof spoon you can give it a stir and begin dipping the puffs. I found holding the puffs with a pair of tongs to be the safest approach, even so my fingers went for an emergency swim in the ice bath a couple of times during this process. Having a chop stick or some other tool at hand is also helpful for getting the dipped puff turned upright and placed.   
Having made puffs, pastry cream and caramel more times than I can count, it was the assembly that was the real challenge. I've made a free-form croquembouche before, so this time I hatched a crazy plan to use a mold made from parchment covered poster board that I would remove after assembly. Real croquembouch molds exist and run upwards of $350, so I was keen on coming up with a home-made solution.   
There were so many flaws with my construction plan it's difficult to know where to start. The biggest element leading to assembly failure was running out of cream puffs! To cover my giant mold, I would have needed twice the number of puffs, and I had upwards of 60, but that only got me about 1/3 of the way there. Then there were adhering issues. With the caramel on the top of each puff I wasn't getting a solid bond on the sides of neighboring puffs. There was fear of pending doom at the thought of removing the mold, but once I realized I wasn't going to be able to cover the thing, I decided to cut my losses and just pulled the puffs off and piled them on a serving platter in a rather free-form manner. Surprisingly they held together and looked pretty darn good. I added a few sugared cranberries and wrapped it with spun sugar strands and called it croquembouche!   
It's much easier to dip the puffs when the caramel is quite liquid, so reheat it as needed to keep it flowing. The sugar strands I made by just dipping a fork in the slightly cooled caramel. If the caramel is at the right stringy temperature, long threads are formed when the fork is pulled out. Grab the very thin threads and just pull and pull and gather them around the croquebouche. Be sure to only grab the very thin hair-like threads. If you see a thick glob falling from the fork, don't touch it! HOT, HOT, HOT!   
I consider cooking to be a grand adventure and this was a fun one. I hope you'll give a croquembouche a try and don't worry if it doesn't stack up perfectly because the cream puffs taste so good, no one will really care what it looks like.
After all that, don't you feel like making a donation to Share Our Strength?   
Here are links to all the other desserts being served up today.
Gourmet
Family
Vegetarian
Gluten-Free
And here are the rest of the dishes created for Share Our Holiday Menu. Enjoy the feast!
Sides  
Gourmet 
Family Friendly   
Vegetarian   
Gluten Free   
 Entrees   
Gourmet   
Family Friendly   
Vegetarian   
Gluten Free   
 Soup   
Gourmet   
Family Friendly   
Vegetarian   
Gluten Free   
 Salads    
Gourmet   
Family Friendly   
Vegetarian   
Gluten Free   
 Drinks    
Gourmet   
Family Friendly   
Vegetarian   
Gluten Free   
Appetizers   
Gourmet   
Family Friendly   
Vegetarian   
Gluten Free