Chocolate cream pie is my all-time biggest cooking disaster, quite definitively marking my culinary low point. Though filled with good intentions and made with love, the infamous pie made twenty-plus years ago was one disaster after then next. I've come a long way since.
One of the things I learned about David when we were dating was he loved chocolate cream pie. Every time he return home from college his mom had a chocolate cream pie waiting for him.  To this day she always has a chocolate cream pie ready when we visit. As a bachelor David sourced his own chocolate pies at a whopping 89₵ each from the frozen case at the grocery store. Even back then an entire frozen pie for 89₵ seemed ridiculous to me. Besides a little sweetness it was, not surprisingly, devoid of flavor. I knew I could do better so I  decided I'd surprise him with a real chocolate cream pie made from scratch.
I didn't actually know what a real chocolate cream pie was like. After a few inquiring probes I learned the filling was nothing more than chocolate pudding. Had there been an Internet to search I might have stumbled upon a great recipe for a chocolate cream pie and avoided this culinary black mark all together, but instead I set off to the store to buy a pudding mix.
Keep in mind the benchmark against which my grand homemade pie would be measured  was an 89₵ frozen pie, so the concept of a boxed pudding mix seemed like a real step up.  As kids my sisters and I would occasionally talk my mother into buying a box of Jell-O brand instant pudding that we enjoyed making and eating. It was what I knew pudding to be.
Though I'd never made pudding from scratch, I could make a darn good pie crust. Baked goods and desserts didn't make a regular appearance around our house, but mom always baked pumpkin pies from scratch for Thanksgiving. I learned the art of mixing, rolling out, and baking a crust early on. The lesson was heavily reinforced by the direct treat reward of the extra pie crust scraps baked up with cinnamon and sugar. Why would you buy a ready-made crust when you could make one and get bonus treats? I whipped up a crust and it was pre-baked, cooled and ready to fill before I headed off to the store.
Once home with my box of pudding mix I ran into trouble when I started mixing it and realized I didn't have enough milk.  It didn't register with me that the non-fat milk I'd used might not be the best choice. It's what I always bought so I didn't give it a second thought. I have no idea why I had a box of dried non-fat milk in my cupboard, I think I'd probably been toting it around with me for years, but I saw it as a fine solution to my predicament.
With the cold milk whipped into the powdered pudding mix I was ready to fill the crust. A quick taste and I recoiled at the strange flavor. I examined the box and noticed I'd bought sugar-free pudding. Oops. I didn't realized Jell-O made even made sugar-free pudding. I hadn't baked the pie crust scraps yet and I decided some cute dinosaur cut-outs to decorate the top would go a long way to salvage the sorry tasting pie.
My dinosaurs suffered a fate nearly as bad as the original dinosaurs that walked the earth. I managed to incinerate them to a nearly charcoal black state. As I placed the dino-chars on the terrible tasting pie the Apatosaurus's head snapped off in my hand. I was thoroughly defeated. The vision I'd had of a beautiful and delicious homemade chocolate cream pie was completely destroyed. I showed up on David's doorstep with pie in hand and as soon as he opened the door I burst into tears and handed him the disaster. I was crushed by the reality that my pie was worse than the 89₵ frozen pie.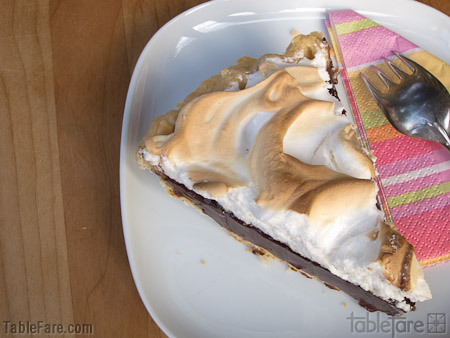 He graciously ate a slice of my disastrous creation and no doubt after I left raced out to buy himself an 89₵ frozen pie to erase the trauma his palate had just experienced. In recounting the sequence of events to David I learned that the choice of instant pudding and non-fat milk were two additional mortal sins when it comes to pudding. "You're supposed to buy the box of pudding that you cook and use whole milk", he pointed out. It wasn't long before we were laughing hysterically over the cascade of disasters that embodied that pie.
The laundry list of chocolate cream pie offences I committed that day reads like this: Sugar-free instant pudding mix made with non-fat milk supplemented with reconstituted non-fat powdered milk of unknown age, topped with headless burnt-to-a-crisp dinosaur pie crust cut-outs.

It became my mission to master the chocolate cream pie. I am very proud that my current-day truly from scratch chocolate cream pie is David's favorite pie. He doesn't even like to share it when I make one. What do you know, fresh whole milk, sugar, eggs, excellent 72% chocolate, and real butter make all the difference!
Recipe Links