Kitchen inspiration can come from the strangest places, such as an article about running in the heat. This may just become one of my favorite summertime treats.
David and I have been running marathons regularly for more than a decade and neither of us enjoy running in "hot" weather. I use the quotation qualifier because I realize that what we as Northwesterners consider "hot" is nearly as laughable as watching the news coverage of the traffic chaos that ensues when it snows in Seattle. We don't get much practice driving in snow or running in heat, and I'm quie okay with that.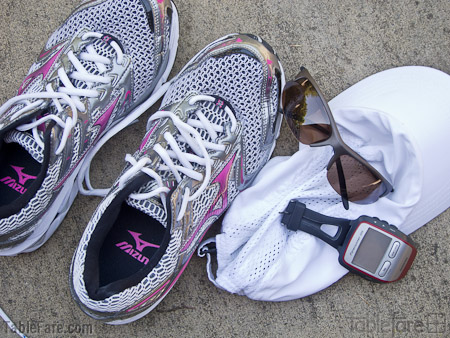 Regardless of the specific numbers displayed on a thermometer, if it feels hot, running can get very uncomfortable very quickly. Runner's World magazine recently published an article; The Heat is On, looking at proper hydration when running and racing in high temperatures.
"In 2010, researchers from New Zealand found that runners who drank an icy, sweet drink ran 10 minutes longer on a treadmill in a heated room than runners who drank syrup-flavored cold water. The "ice slurries" lowered their core temps, which may have allowed them to run longer before their bodies overheated. In short, they were better precooled." -Runner's World
I love the idea of drinking a precooling Slurpee 30-60 minutes before running, but heading to a 7-Eleven as part of my pre-run routine is a tad inconvenient. Of course on a hot day it's also inevitable that the coke and cherry flavors will be gone, leaving only extreme-sour something or a perplexingly neon blue slurry that claims to be raspberry. No thank you. Then it hit me, I can make my own…out of a sports drink. The added benefit of electrolytes seems like a valuable bonus. I joke about crazy beverage colors at the Slurpee machine, but actually sports drinks seem to come in some of the strangest colors. Even this simple lemon-lime flavor is glowingly neon.
Pouring sports drink in the ice cream freezer makes a delightfully cooling slushy in a matter of minutes. I've never put my ice cream maker to work for slushy making purposes before, but it's likely to become a daily ritual. Just incase you didn't catch all of the intricacies of the recipe, I've written it out in detail. Let me know if you give this a try and find the pre-cooling beneficial. It also makes a very refreshing post-run treat.
Hot weather Sports Drink Slushy
If making sports drink from a concentrate, mix it just a touch strong becuase the flavor is muted once it's frozen. Though a pre-mixed beverage works fine.
12-16 ounces sports drink of your choice
ice cream freezer
Pour the sports drink in an ice cream freezer and churn until it's a nice frozen slushy consistency. Pour into a tall glass and enjoy 30-60 minutes before heading out for a run on a hot/warm day.