I'm very excited to be teaching an introduction to spices class called Spice 101: Spice Basics at World Spice Merchants in Seattle on January 18th.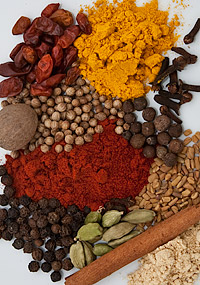 If you find the spices in your cupboard to be a little mystifying this is the class for you. I'll be focusing on the flavor profiles of common spices so you can learn to use them creatively and cook to your palate rather than being bound by the limitations of a recipe. I'll also cover tips on buying, storing, grinding, and toasting spices.
If you have a jar of caraway, for example, that was purchased for a particular recipe and now you have no idea what to do with the rest of it, this class is for you! Here are the class details:
January 18th, 2012 Rescheduled post-snowpocoalypse for
January 25th, 2012
6:00 p.m. to 8:30 p.m.
World Spice Merchants, 1509 Western Avenue, Seattle
Cost is $45
Register for the class now!
There will be many snacks and tastes of foods served during the class to illustrate the flavors of the different spices. Everyone will also receive a custom booklet with information and recipes highlighting each of the spices discussed.  World Spice is offering a 10% discount on purchases made the night of the class.
I'd love to have you join me for this fun night of exploring the flavors and uses of common spices. Sign up here. Don't delay because the class is limited to 18 people.