Stonewall Kitchen hosted a recipe challenge to develop a recipe using one of their mustards. Of the 12 varieties they make, I selected the Bourbon Molasses Mustard for my entry because it sounded the most unusual and interesting. A week or so after signing up for the recipe challenge, a little box arrived at my door with a jar of Bourbon Molasses Mustard and an extra surprise sample of Blueberry Orange Marmalade.
Before I get to my mustard creation allow me to first stumble and trip over my love for the Blueberry Orange Marmalade. I'd always heard how great Stonewall Kitchen jams were, and now I understand. The combination of these two flavors is brilliant and I'm just a touch annoyed I never thought to put them together myself. The blueberries temper the tartness of the orange marmalade, and as if in an exact reaction, the orange marmalade tempers the sugary sweetness of blueberry jam. This synergy results in a beautifully balanced, juicy, jammy, marmalade. You'll notice I don't have a picture to tempt you with because it didn't last long enough for me to go get the camera.
I signed up for the recipe challenge with the idea of making a savory biscotti featuring the Bourbon Molasses Mustard, but never having tasted the product was open to going in any  direction my taste buds led me. With one dip of my spoon into the rich mahogany colored mustard, it was full steam ahead for my mustard-biscotti adventure.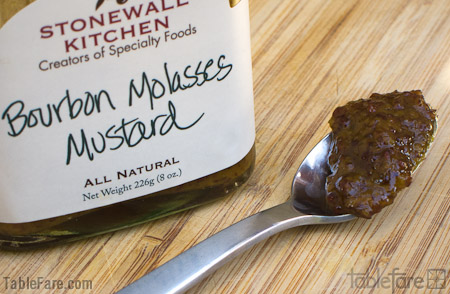 This mustard is mild, sweet and tangy delivering none of the aggressive kick of a Dijon. Rather than heat, an intriguing tangle of  smoky, woody, warm flavors are paralleled by sweet molasses notes and contrasted with a bright vinegary tang. Eating it by delightful spoonful has been fully tested, proving that this mustard could masquerade as a relish if it chose to.
Mention biscotti, and mustard isn't the first thing that pops into most people's minds, but don't snarl at the thought because biscotti has much to offer the savory world. It can lend visual and textural contrast to an ordinary bread basket, be a crunchy complement to a platter of artisan charcuterie, and out-class any pretzel as a bar snack served alongside the trendiest microbrews.
This biscotti recipe is essentially a quick bread and easy to mix together. Once mixed, it's simply patted into loaves, brushed with an egg wash and sprinkled with brown mustard seeds and flake salt before the first visit to the oven.
After the loaves are baked the first time, they are cut into the iconic long beveled slices that at first glance might make you crave a strong cup of coffee. The cut slices are then baked for a second time to dry them out so they deliver a crunchy satisfaction. With savory biscotti, I prefer a texture that is more crumbly-crisp. Savory biscotti shouldn't need to be dunked to be consumed, chewing shouldn't drown out conversation, and shouldn't come with risk of  Captain-Crunch-syndrome-style trauma to the upper palate. The butter, additional egg yolk and milk ensure the safety of your upper palate and tasty eating enjoyment.
The sweet, woody, smoky, warm flavors of the Stonewall Kitchen Bourbon Molasses Mustard take to biscotti like it was planned that way from the beginning. These really need to be served at your next cocktail party, or set them out at a pot luck and sit in the corner of the room and snicker as people bite into them expecting dessert. I bet every surprised pot-lucker would feel quite lucky to have discovered these tasty gems; well, once they got over the confusion caused by preconceived notions of what this iconic shape represents.
In my vast taste research on this Bourbon Molasses Mustard, I learned that it's not only great in biscotti and eaten right off a spoon, but also when  spread on a sliced baguette and topped with a sardines, spread on an egg salad sandwich, used as a dip for Trader Joe's Pumpernickel Pretzel Sticks, and spread on salami, apples, and cheese. I guess it's time for me to order another jar because I'm pretty sure I have more research to do and I know I have more biscotti to make.
Recipe Link