It was about five years ago that David and I embraced our ambitious idea to launch a company designing and manufacturing highly functional kitchen tools. TableFare was born, and after much planning and design work we launched our SpiceCare spice storage containers in the summer of 2009.
This entrepreneurial adventure has been a rollercoaster ride of exciting and fun peaks matched by stressful and scary dips. Though we've received outstanding feedback on our product, our SpiceCare ride is coming to an end. Despite our best efforts to make our venture work, the reality is SpiceCare is just too niche of a product to sustain us. We had hoped to find a home for SpiceCare with a larger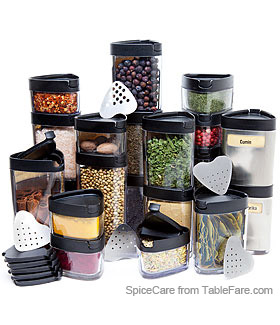 housewares company, and though three companies were very interested and evaluated the opportunity, none of them decided to go with our product. In light of this we've had to face the reality that we can no longer afford to produce SpiceCare.
We will be selling out the inventory we have on hand and at least for the time being, not producing any more. If we manage to get ourselves re-established in our former careers, bringing SpiceCare back as a side venture is not out of the question. If you want to add to your SpiceCare collection now would be the time! We are offering free shipping on orders over $25 until our inventory sells out.
Building TableFare by bootstrapping our way along and learning with each new opportunity has been a remarkable experience. The most rewarding of all has been the ability to connect directly with all of you through our website, blog, newsletter, Facebook and Twitter accounts– always a highlight of our daily activities. We plan to keep TableFare.com active with blog posts, Spice Library updates, and other food and cooking related information. We also look forward to engaging in interesting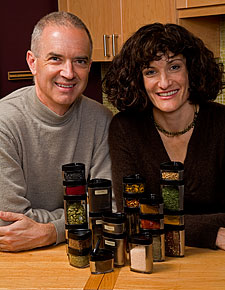 food, cooking, and spice-related discussions with you on Facebook and Twitter. The increasingly popular Twitter #SpiceChat on the first Wednesday of each month will continue as well.
We deeply appreciate your support, thank you for your business. The emails from happy SpiceCare customers extolling the organizational joy of our product were the biggest rewards of our entire venture. We hope you'll stay in touch and if we can swing it, someday you may just get an email announcing SpiceCare is back!
Thank you,
Carol & David