When I saw the words "sage caramel corn" fly by in a recent #SpiceChat on Twitter, I knew I'd be making some before the week was out. My insticts were right about this flavor combo, it's fantastic.  I've taken this to four parties in the last few weeks and it's been an enormous hit every time.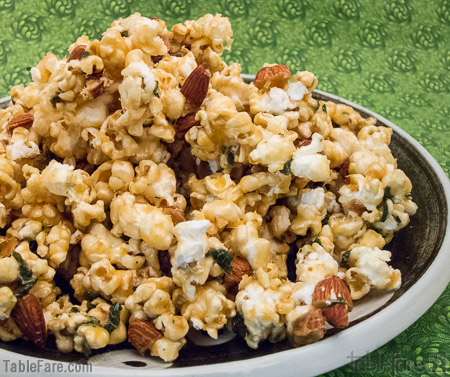 I went back through the chat posts to find the link SpiceSherpa shared for the recipe. Much to my disappointment, I realized there was some Twitter chat confusion involved because the link was for this post by Savory Simple featuring three recipes for Thanksgiving inspired popcorns; Pumpkin Caramel Popcorn, Brown Butter Sage Popcorn and Gingerbread Popcorn. Though they all sound like winners, I was really hung up on the idea of Sage Caramel Corn, so off to the kitchen I went.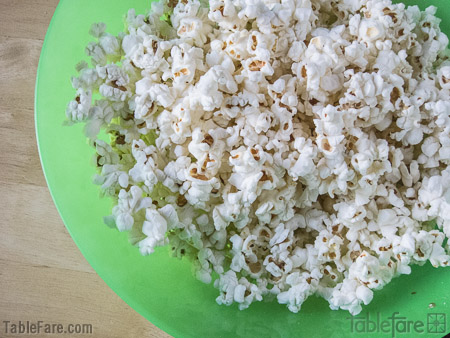 My strategy was to simply adapt my Orange Fennel Orange Caramel Corn recipe to feature sage. I just wasn't sure about best way to add the sage. My initial attempt involved frying the sage leaves in the melted butter, setting them aside, and stirring them in at the end. The result was good, but the messy, time consuming process won no points. It  occurred to me the sage would essentially fry and become crispy if I simply added it to the cooked caramel before adding the popcorn. Bingo.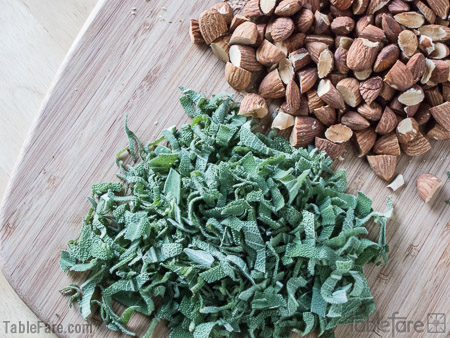 Cooking a caramel isn't tricky, but it does require some sort of thermometer that will register 300 degrees F. This is the all-important hard-crack stage for sugar, vital for that satisfying crunch of good caramel corn. A candy thermometer and many instant read probe thermometers will get the job done. If you want to invest in a great thermometer that's fast and accurate, check out ThermoWorks. I love my Thermapen!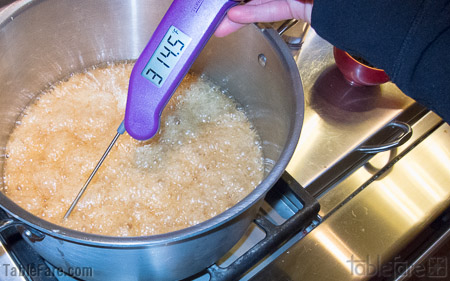 I accidentally blew past the 300 degree mark while fiddling around with trying to pose the thermometer and take a photo, but this recipe isn't so finicky that it's a problem. The hard-crack stage for sugar is actually a range from 300 degrees F to 320 degrees F, so you've got a little wiggle room. Notice that I've washed down any sugar crystals clinging to the side of the pot. An important step to keep the caramel from crystallizing once it cools. (Just dip a pastry brush in water and brush over the sugar crystals until they dissolve. Be careful, the steam created when the wet brush hits the hot pan is hot.)
A word of caution. The sweet caramelly goodness bubbling away in the pot doesn't actually cross over into the "sweet caramelly goodness" category until it's cooled and will no longer burn through all layers of your skin in the blink of an eye. Not only is this stuff extremely hot, but it's sticky, so if it lands on your skin, it wants to stay there and keep the burn going. Please be careful!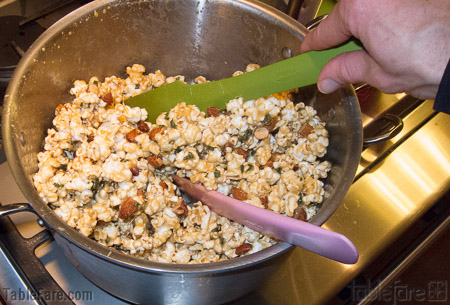 I find it easiest to start by stirring in about 1/3 of the popcorn along with the nuts rather than adding all of the popcorn at once.  I like to work with two silicone spatulas and find a cutting motion is effective at breaking up large caramelly clumps. They key to getting all the popcorn evenly coated is patience. Just keep cutting and stirring and eventually the caramel will be nicely distributed.
This is truly a delicious treat. I hope you give it a try.
Recipe Link