The New Wine Country Cookbook, Recipes from California's Central Coast, by Brigit Binns is a delicious tour of California's wine region. No, not Napa or Sonoma. This book is about the other wine country running from Monterey to Santa Barbara including Paso Robles, famously known for growing outstanding Rhône varietals.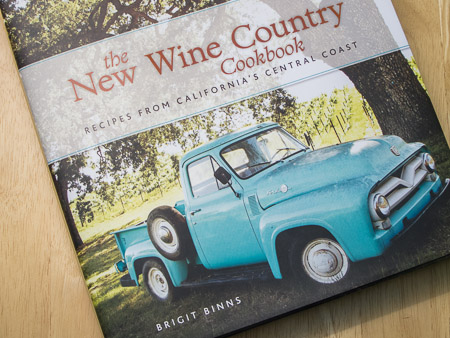 I received a review copy from Andrews-McMeel Publishing and while flipping through the pages for a quick peek at the contents, I noticed a growing urge to head to the nearest farmer's market. This book had my attention. Beyond the beautiful photographs and enticing recipes, it's peppered with stories of the places and people that make this region of California special. Reading about Brad Buckley's Abalone Farm, Cliff Garrison's cattle ranch, Don Cole's varietal honeys, and numerous other producers and vineyards that make this area unique will no doubt send you scurrying off to your local farmer's market to embrace the bounty of the growers and producers in your area. In addition to inspiringly wonderful food, with introductions to so many people and places, The New Wine Country Cookbook makes a perfect itinerary for a spectacular wine country vacation.
The recipe for Spit-Roasted Lavender Chicken with Fresh Fig Romesco won me over immediately. The combination of fennel seed and thyme is dazzling when it mingles with the delicate floral hints from a careful touch of lavender. Lacking a spit-roaster, I turned to the traditional oven-roasting method, which was a completely effective alternative. Unfortunately it's a bit early in the season for figs, so I skipped the Fresh Fig Romesco, but I'll be revisiting this as soon as figs start showing up at the market.
The book is divided into seven chapters with ingredient-driven titles like, From Garden and Orchard, From Field and Barnyard, and From the Sea. The second recipe I made is in the chapter From the Dairy, Spaghetti with Sautéed Radicchio and Scamorza. If you're not familiar with scamorza, it's a smoked mozzarella and it's absolutely worth tracking down. The flavors in this dish are bold, taunting, and complex, yet the preparation is nothing more than a simple sauté of ingredients taking less time than it takes for the pasta to cook. Radicchio's bitterness is tempered a bit with cooking, yet it maintains enough fight to hold its own alongside the pungent briny anchovies. Comforting warm smoky flavors from the scamorza settle the dish into a harmony that begs you to have another bite.
Of course a wine country book wouldn't skip the wine. All of the recipes highlight the pairing of food and wine and each recipe comes with a wine recommendation from the Central Coast as well as one from beyond our shores. Though making wine is possibly the most noble use of grapes, roasting them is a close second. The recipe for Fennel-Dusted Roasted Grapes with Sea Salt is tucked in the last chapter of the book, From the Wood-Fired Oven, which is reason enough to start cooking from the back of this book forward. Not to worry if you lack a wood-fired oven as alternate cooking methods are provided and I can assure you the oven method for these roasted grapes is 100% delicious. Binns describes them as "fresh raisins." They are salty and savory on the crisp, chewy exterior and sweet and jammy in the center. By the way, this is a perfect application for the beautiful artisan flake salt you've been hoarding. Every delicious crystal will be appreciated. I can't imagine ever serving a cheese platter without a generous mound of roasted grapes alongside now that I've made these. Once you taste them you'll be embellishing all sorts of dishes with these little gems. If you're wondering what wine to serve with roasted grapes, the Central Coast recommendation is Longoria Port "Vino Dulce," Santa Barbara County (Syrah), and the worldly suggestion is a port from Portugal.
It won't be long before my copy of this book automatically falls open to page 76, the recipe for Rosemary-Polenta Cake with Warm Plum Compote. The combination of rich buttery polenta pound cake infused with warm savory hints of rosemary, draped in a garnet-red syrup of sweet plums and berries, and accented with the decadent creaminess of lemon-spiked mascarpone is stunningly good. I don't believe rosemary is considered an umami flavor, but in this situation it's magical in that umami sort of a way. The rosemary flavor isn't overpoweringly strong, but it lingers in just the right way beyond the buttery-ness of the cake and sweetness of the berries adding a gentle savory quality that embodies taste, flavor, and pure pleasure. The polenta brings a wonderful toothsome texture to the cake that boarders on addictive. When you make this, do yourself a favor and make a double batch of the compote and mascarpone and serve the leftovers on cornmeal pancakes. I'll be co-opting this Rosemary-Polenta Cake for Strawberry Shortcake as well. The rosemary and strawberries will get along very well, especially when topped with lemon mascarpone!
If given the chance, I'll turn anything into finger food. These bite-sized versions of the polenta cake dessert would be perfect for a brunch buffet, afternoon tea party, or to add a little sweet note to an hors'd oeuvre party. Spreading the mascarpone on the cake and placing the compote on top keeps the compote from being absorbed into the cake, which would still be delicious, just not as pretty.
The New Wine Country Cookbook is the kind of cookbook you'll want to sit down and read, and then invite friends over and cook for them. It's a wonderful collection of recipes that celebrate growers and producers and wines. I'm looking forward to continuing to cook my way through the book. Brigit Binns and Andrews McMeel Publishing have kindly given me permission to share a couple of recipes with you from The New Wine Country Cookbook, Recipe from California's Central Coast. Enjoy!
Recipe Links